Dragunov dot net - Izhmash Dragunov Tiger Hunting Rifle

The Izhmash factory arsenal in Izhevsk, Russia manufactures the Tigr (Tiger) rifle. This rifle is available in three main calibers, though only the 7.62x54R version was sold in the US. Special-order calibers are also available including a Tigr in .30-06. From Izhmash's web site:
"The Tigr self-loading hunting rifles are intended for big-and medium-size game hunting under various climatic conditions. The rifles are based on the venerable SVD Dragunov sniper rifle and differ in their improved accuracy of fire. "
7,62 mm Izhmash Tigr semi-automatic rifle

Cartridge: 7.62

Operation: gas

Locking: rotating bolt

Feed: 5 or 10-round box magazine

Muzzle velocity: 2723FPS, 830 m/s

Rate of fire: 650 rds/min

Firing mode: single shot semi-auto

Sights: fore, post; rear, U notch; adjustable 0 to 300 m; Scope 4 x 24

Weapon length: 43.3", 1100 mm

Barrel length: 20.86", 530 mm

Barrel twist: 4 grooves RH, 1:9.5", 240 mm

Weight without magazine: 8.6 lbs, 3.9 kg

Weight empty magazine: .5 lbs, 0.21 kg

PSO-1M2 Scope: 1.27 lbs, 0.575kg
Tigr variants
| | | | |
| --- | --- | --- | --- |
|  Specifications | "Tigr" | "Tigr-308" | "Tigr-9" |
| Calibre, mm | 7.62 | 7.62 | 9 |
| Cartridge | 7.62x54R | .308 Win(7.62x51) | 9.3x64 |
| Barrel length, inches | 20.86 | 22.24 | 22.24 |
| Rifle total length, inches | 43.30 | 43.30 | 43.30 |
| Rifle weight, empty magazine, pounds | 8.6 | 8.7 | 8.7 |
| Magazine capacity, rds. | 5 or 10 | 10 | 5 |
The Tigr is offered in two barrel lengths (up to 24 inches) and various muzzle brake styles.
| | | | |
| --- | --- | --- | --- |
| Cartridge designation | Bullet weight, gr | Muzzle velocity, fps | Muzzle energy, J |
| 7.62x54R | 203 | 2362 | approx 3600 |
| .308Win (7.62x51) | 150...180 | 2854...2624 | approx 3700 |
| 9.3x64 | 247...293 | 2690...2559 | approx 5800 |
You can also choose from 3 or 4 different butt stock styles.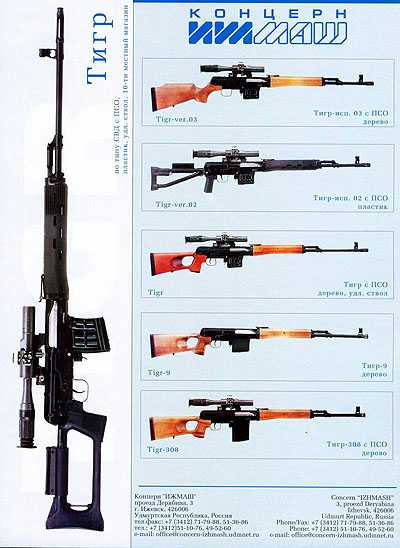 In 1993-1994 Russian Dragunov Tiger rifles were imported into the U.S. from the Izhmash (sometimes stamped "Izhmach" on the receivers) factory by three different companies: Big Bear Arms of Dallas, Texas, B-West of Tucson, Arizona, and Century Arms International of Saint Albans, Vermont. The CAI imported Tigers have uniquely marked receivers with no Russian arsenal logos as can be seen at left.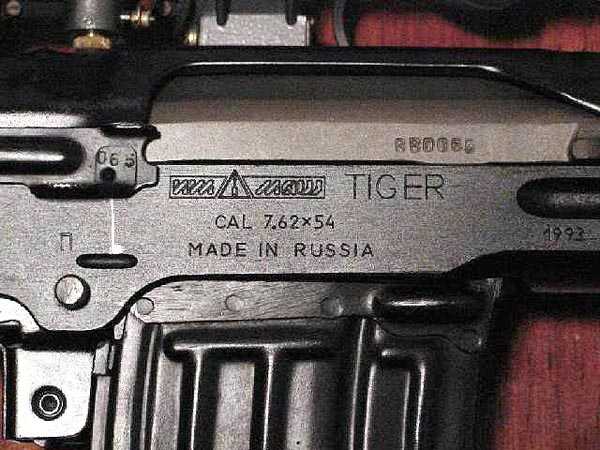 The Tiger rifles imported into the US starting in 1993 had the improved flat-sided receiver without the "lightening cut" above the magazine. Tigers sold in Russia and elsewhere were still being sold with the older receiver in 1993.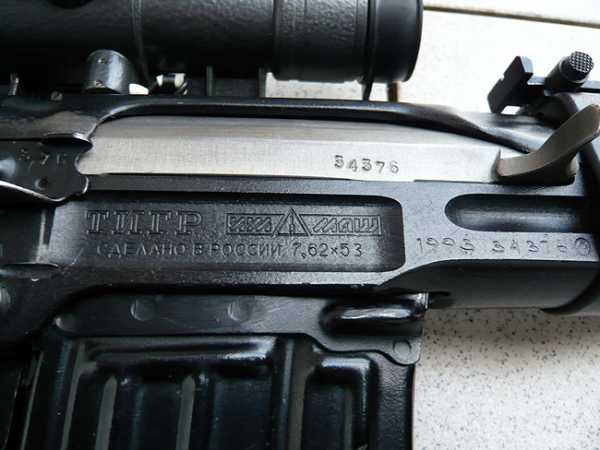 Above is a Russian Tigr made in 1993. Note the lightening cut with "Made in Russia" in cyrillic and 7.62x53 caliber.
The unique markings of a B-West of Arizona imported Tiger.
"сделано в россии" means "Made in Russia"
"Izhmach" is from the original name of the arsenal "Izhevsk Machine-Building Plant"(Ижевский Машиностроительный Завод). At some point they changed the spelling from Izhmach to Izhmash (ИЖМАШ), which is closer to how the word is pronounced.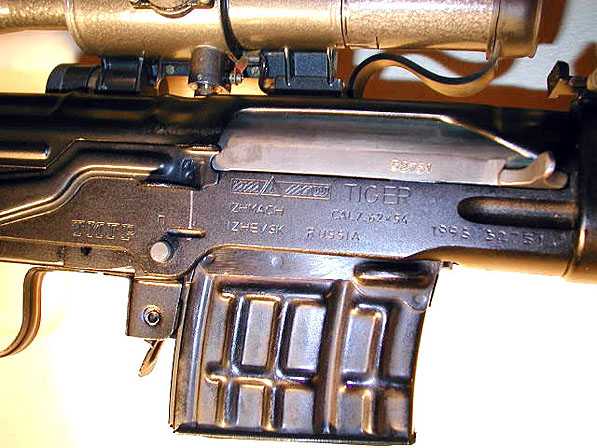 Still another version of Tiger markings.
The "тигр" under the safety lever is the word "TIGER" in Russian cyrillic.
Differences between the Military SVD and Tiger hunting rifle
| | | |
| --- | --- | --- |
|  Specifications | Military SVD | Tiger |
| Barrel length - inches | 24 | 20 |
| Rear sight leaf marking - meters | 1200 | 300 |
| Adjustable gas system | Yes | No |
| Thumbhole butt stock | Steel butt plate, detachable cheek pad. | Rubber butt plate, no cheek pad |
| Front sight assembly | Flash hider, bayo lug, hooded post | Bare muzzle, blade sight |
| Magazine capacity, rds. | 10 | 5 |
| Front sling mount assembly | Small loop for sling hook | Wide loop for flat sling tab |
The Tiger is basically a hunting rifle, though some dealers would rather you thought it a true sniper's rifle.
Shooting one of these is not unlike shooting a Mosin-Nagant M44; Huge muzzle flash and very strong recoil. These rifles are as light as an AK but fire the full-size 7.62x54R cartridge.
Some Tigers came with a hooded front sight though this is a rare variation. Most had an exposed blade which is held very tightly in place.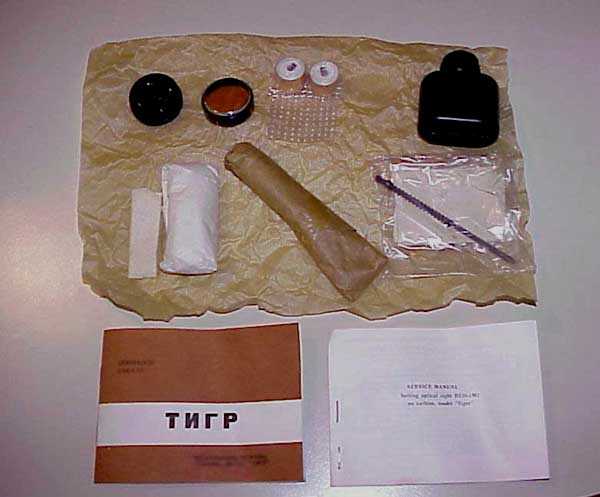 Your Izhmash Tiger should have come with these accessories which include spare 3 volt scope bulbs, rubber switch covers, scope polarizing filter, spare spring-loaded firing pin, oil bottle, some scope tools, and a Russian language manual for both the scope and the rifle.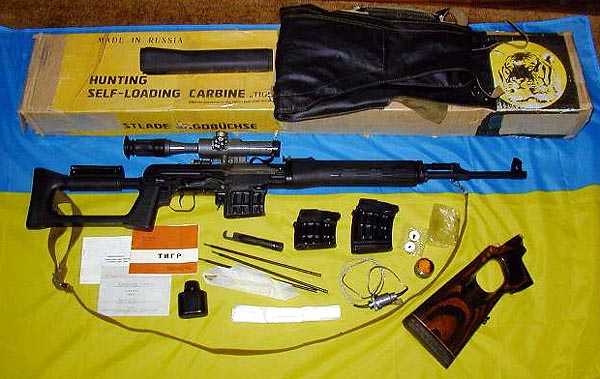 Tiger package as offered in the US. This one has the military polymer SVD butt stock and hand guards installed and an extra 10 round magazine.

A high mounted scope and no cheek raiser means you have a "chin weld" instead of a cheek weld. This position gives more percieved recoil because your chin does not help absorb the recoil like your cheek would.
Many owners have replaced the commercial stock set with a military SVD stock which has a cheek pad and vented hand guards.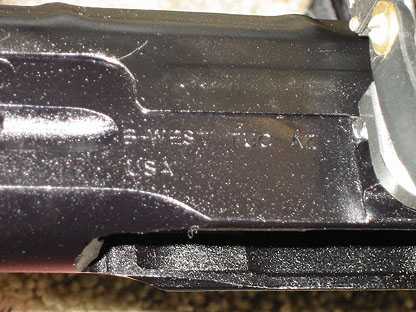 B-West of Tucson, Arizona import mark.
The chrome chamber of the Tiger.

Back to Top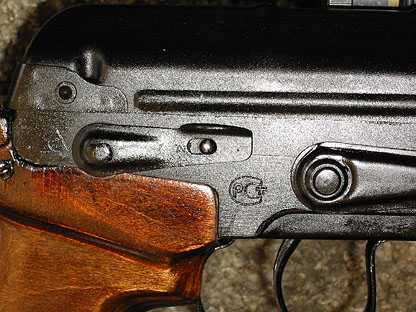 Rear latch lever. Rotate down and back to remove the cover.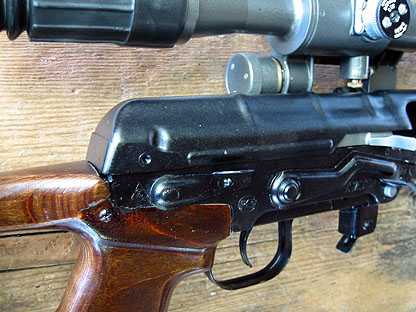 The late type 2 variation receiver cover has no indents at the rear like on the Chinese version.
The Tiger was imported with the military style PSO-1M2 scope manufactured in Belarus. These Zenith-Belomo factory scopes are rarely offered for commercial sale and are similar in quality to the current NPZ-manufactured PSO-1 scopes from Russia.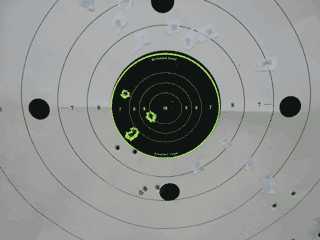 The rifle shoots the Wolf 7.62x54R 154 grain FMJ ammunition well at 100 yards. Muzzle flash is massive with this ammo.
Heavier bullets are safe to use in this rifle. See here for more info.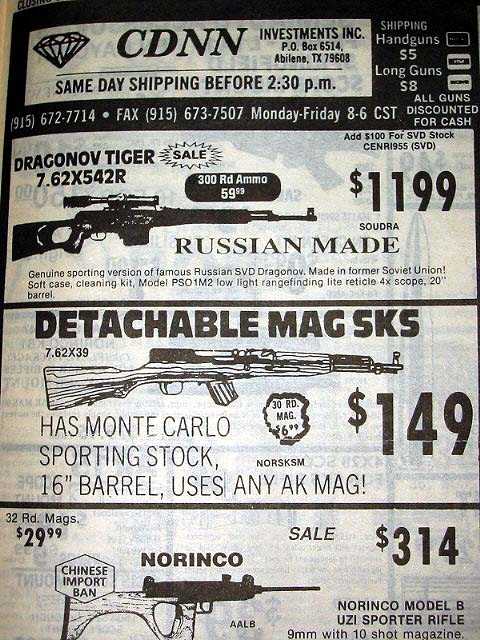 March 1995 CDNN sale ad. Note for an extra $100 you could opt for the military stock.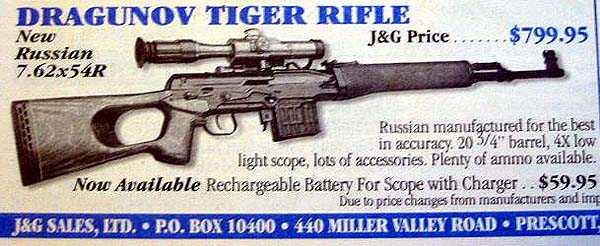 Original 1996 J&G Sales dealer ad showing $799.95 price.
California Armory Inc. Tiger 7.62x54r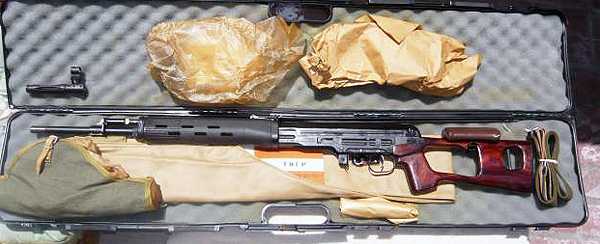 The "California Armory Tiger" that was imported in the early 1990's came in with all the military features, including buttstock, flash supressor (removed from barrel), rear sight leaf, etc. However they have the shorter 20" barrel and no adjustable gas system. The barrel diameter and length is identical to the regular Tiger and is not based on the shorter SVDS barrel.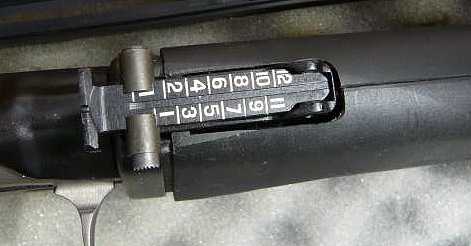 The military sight leaf marked to 1200 Meters.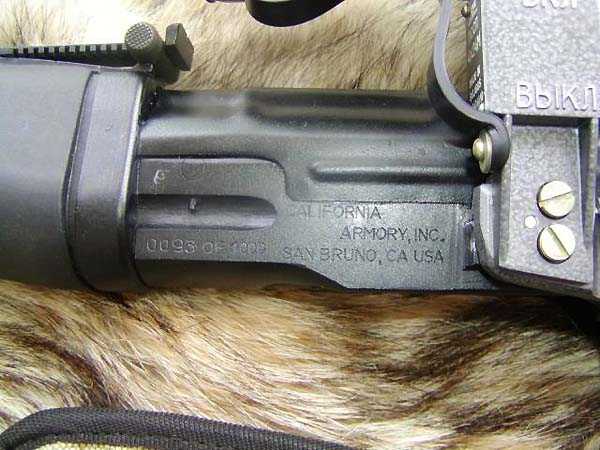 The rifles are numbered as if they are a limited production run of 1000 but importation was cut off before all 1000 arrived. There are actually only about 700 of these Tiger rifles that were imported by California Armory, Inc of San Bruno, California USA. This is the second most rare Dragunov variant in the U.S., behind the KBI imported SVDs of which only 100 came in.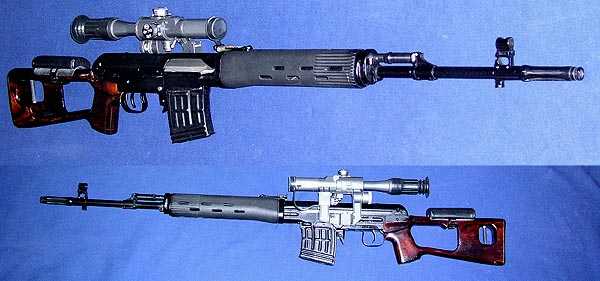 The flash supressor/bayonet lug assembly was not originally attached to the rifle but was included in the box. Most owners or retailers put these on the rifles because the assembly also has the front sight on it and you couldn't use the iron sights without it.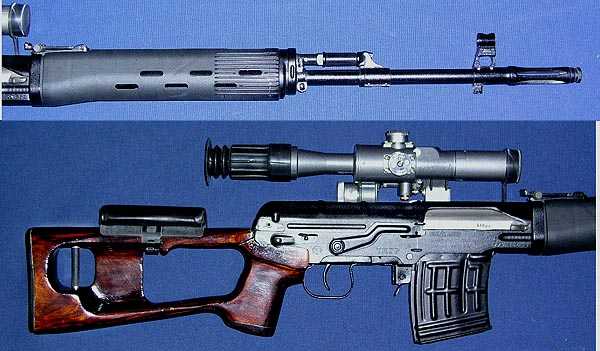 Back to Top
There has been a recent ruling by the BATFE that verifies flash hiders are legal to mount on these guns. Click here to read the letter on this ruling.
Izhmash Tigr rifles as offered in other countries
The Izhmash Tigr-03 model with the monte carlo butt stock. The trigger is modified so it is easier to reach with this style stock.
This model is offered with long and short barrels.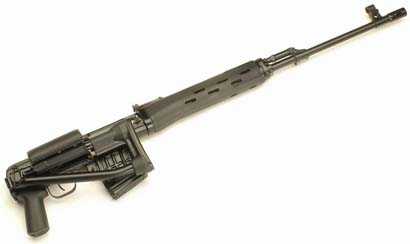 Though it looks like an SVDS, this is a commercial Tigr in 7.62x54R with folding buttstock.
All commercial Tigers sold in Russia feature a special chamber design that has a "step" machined into the chamber. This results in the fired cases being marked with an indented ring around the neck, which aides in forensic criminal investigation. Rifling twist rate is now 1:320 mm or about 1:12.5" compared to the 1:240 mm (1:9.5") in Tigers made until the early 1990s.
"VTB" on the akfiles.com forum had this to say about Tigr barrels:
"Tigers in some batches of production were made without threads - the barrel was just inserted into the heated receiver. 1992-1993 tigers are fine. 2015-2016 are too.
But in 1998-2008 they are without threads. You can check if the barrel is threaded if you look at the barrel chamber area. The threads can be clearly seen there (in the area where bolt charging handle is located when the bolt is closed)"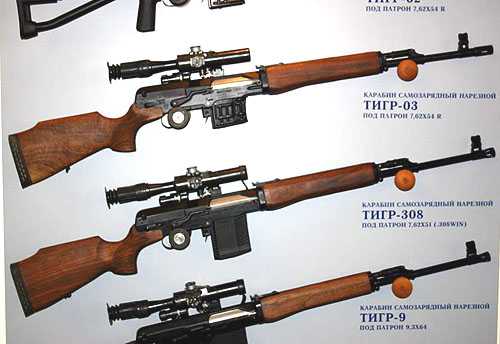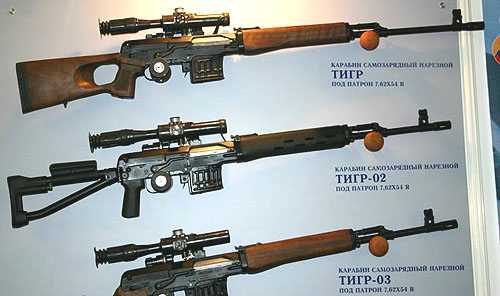 The latest variation of the Izhmash Tiger available in New Zealand at Gun City.
Back to Top
This variation is being offered with the longer 620mm barrel (24 inches) and wood stocks. No flash supressor/muzzle brake is included.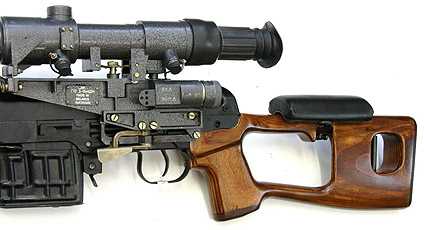 An optional 1P21 variable power scope is shown mounted.
Both stock styles are offered.
Notice the simplified smooth receiver cover.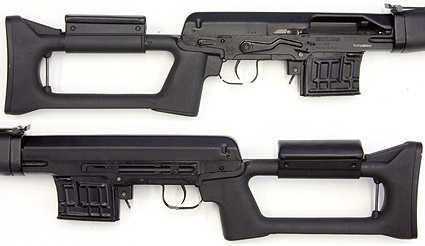 This receiver cover is made from thicker metal as the previous ribbed version and increases the strength of the action.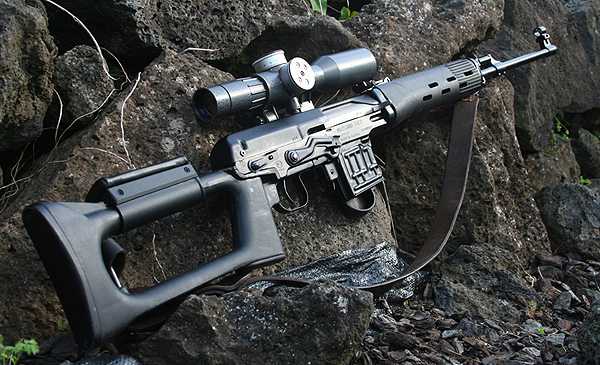 Tigr owned by "Bas" in New Zealand.
Back to Top
Izhmash Tiger as sold in Spain
Notice the difference in flash hiders.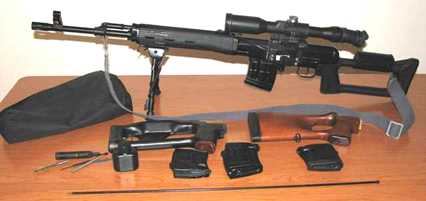 www.dragunov.net
Dragunov dot net - SVD and NDM-86 Dragunov Bipod
Russian and Chinese Bipods for the Dragunov Receiver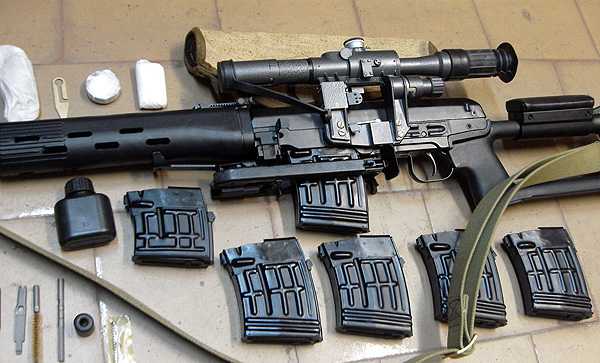 Prodiz SDA-C101 bipod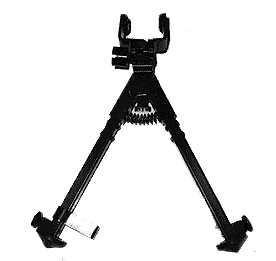 Some Dragunov owners may not realize there is a bipod that is specifically designed just for their rifle. The bipod is not made by Izhmash (the SVD factory) but is a commercial product for SVD and Tigr owners. This is the Russian bipod SDA-C101 made by Prodiz that is designed just for the Dragunov receiver and requires zero modifications to your rifle. Note that this bipod will only fit Russian or Chinese Dragunov receivers, not Romanian PSLs. Продиз АСД С101.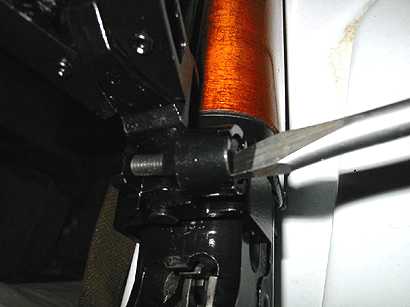 Attaching this cast metal bipod is pretty easy, just place the clamp in the recess on either side of the receiver, and tighten the screw.
The Prodiz bipod is held securely in place, though there is some slight lateral movement. When not in use, the legs fold forward towards the muzzle.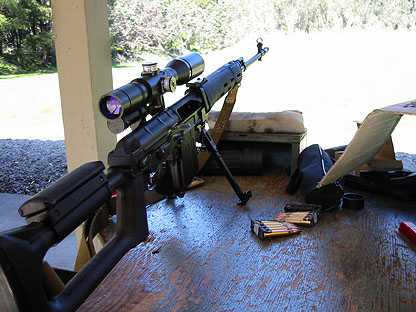 The bipod feet are a very hard and durable rubber, great for securing on a slick surface like the hood of a car. They extend from 5 to 7.5 inches (12.7 to 19 cm).
Dimensions in the folded position 190 mm ​​x 90 mm ​​x 70 mm.
The height of the barrel under the support surface 218 - 273 mm.
Weight 475 g.
Perhaps the most important benefit of having the bipod is how it can actually improve your accuracy. By not having to rest the rifle on its barrel or even its handguards, the barrel harmonics are not disturbed and shots will be more consistent.
Russian Versus Chinese Bipods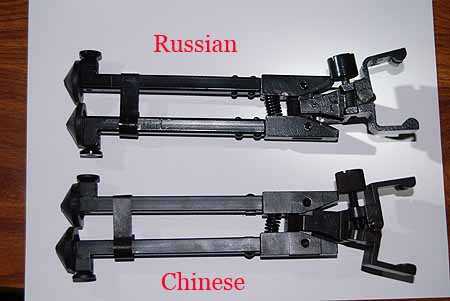 There is an alternative bipod option available for Russian and Chinese Dragunov owners. I got mine in yesterday straight from Hong Kong, and to sum up my opinion, it's as good as the Russian version. The Hexagon Production bipod is marketed for Airsoft players not to real Dragunov owners. With that in mind, the bipod is very well made of all steel construction with rubber feet. They both weigh the same (about 1.2 pounds) with not a single piece of plastic on either.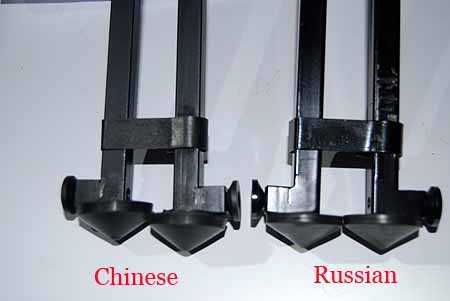 The Chinese metal is better finished (the Chinese version is the matte black, the Russian is the glossy black) but the welds are not as clean at the bipod "feet". They are both made of cast metal.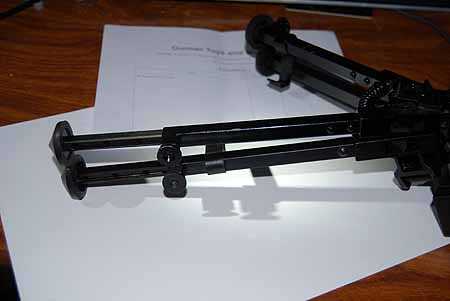 The legs extend to the same length on both (from 5 inches to 7.5 inches). The spring that pops the legs apart is much stronger on the Russian version, meaning it takes more of an effort to squeeze them closed.
When you pull the spring-loaded plunger to extend the legs, the Russian legs will extend and stop at its longest position, the Chinese version's legs will drop off the end of the bipod because there is no catch to limit their extention beyong maximum (a design flaw).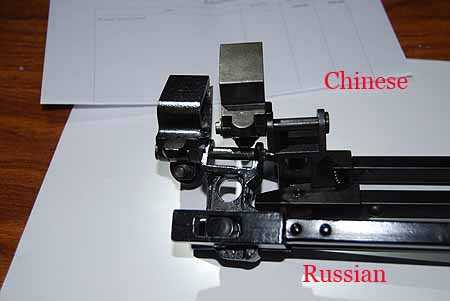 The receiver clamps are slightly rounded on the Russian version but they are both the same size. The Russian version has a cut-out on the rear of the left side clamp while the Chinese version has the cut on the middle of both clamps. (My Russian bipod is from the 1990s so newer Russian bipods may be slighly different).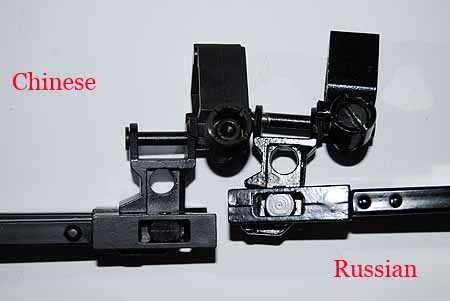 The tightening screws are different but operate the same. The Chinese version of the outer screw is checkered, the Russian one is smooth. The inner screw on the Russian version has a flat-head screw driver slot while the Chinese bipod is a hex bolt. No instructions are provided but it's a pretty straight-forward job to mount it. Note the rivets on the legs.
We used to be able to buy the Russian bipod for less than $100 in the early 90's. Now they are listed between $200 and $300 on auction sites but cost about $140 in Russia. We've seen a few sell as high as $600 during the 2008 election craze. This Hexagon Productions bipod lists for $45.
сошки Снайпер АДС-С101
Izhmash S-1 bipod
In Russia there is a new style of bipod that is designed by Izhmash specifically for the Dragunov rifle.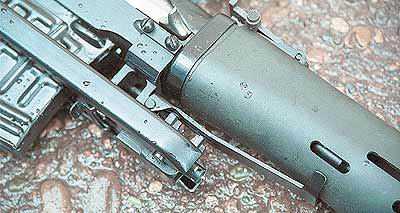 The S-1 Bipod is very expensive in Russia and its complicated design makes it far more rigid than the aftermarket bipods mentioned above.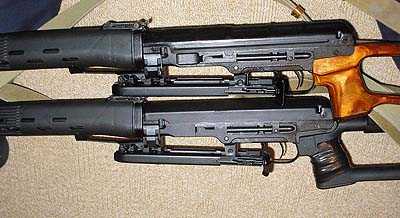 Production of these at Izhmash is very infrequent since they are concentrating a lot of effort on the SV-98 sniper rifle.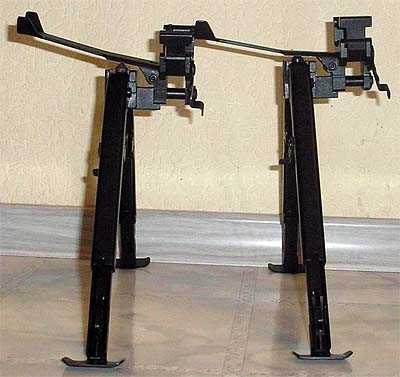 So far only a handful of these have been imported to the US. These used to sell for $250 in Russia but the value has risen significantly due to its scarcity.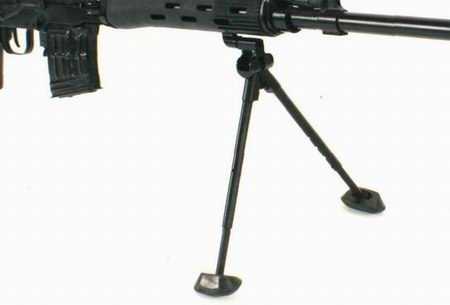 Experimental bipod from a SVD modernization project.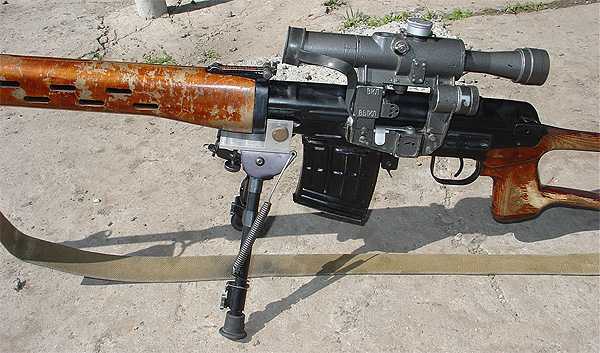 Many shooters in Russia have found ways to mount a Harris bipod using various types of home-built adapters.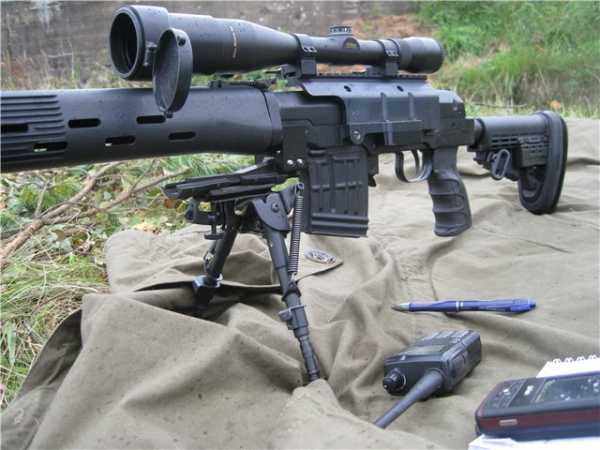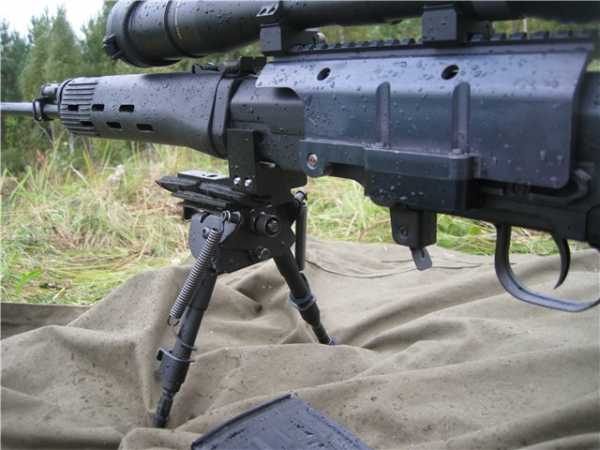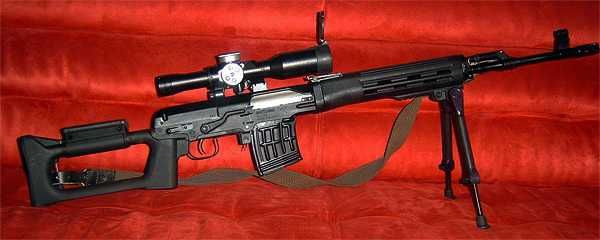 These plastic aramid hand guards by OAO SKBTR (СКБТР) have a picatinny rail underneath for mounting bipods or other accessories.
www.dragunov.net
Dragunov dot net - Russian SVU and OC-03 Dragunov bullpup sniper rifle
Russian SVU and OTS-03 - Full Auto Dragunov Bullpup Sniper СВУ СВУ-АС ОЦ-03
7.62 mm Izhmash SVU SVU-A SVU-AS

Caliber: 7.62mm x 54r

Operation: gas

Locking: rotating bolt

Feed: 10-round box magazine (20 -SVU-A)

Muzzle velocity: 830 m/s

Rate of fire: 30 rds/min (650rds/min SVU-A)

Firing mode: single shot semi-auto

Sights: fore, post; rear,apurture; adjustable 0 to 1200 m; Scope: 4x24 PSO-1M2

Weapon length: 870 mm

Weapon Height: 230 mm

Weapon Width: 88 mm

Barrel Length: 520 mm

Weight w/ scope unloaded: 4.4 kg

Scope: 0.575kg
Bullpup version of the Izhmash SVD
In 1975 the need arose to have a much shorter designated marksman rifle based on the SVD that would easily fit in cars and APCs. Using the British EM-2 rifle as inspiration L.V. Bondarev, working for the Central Design Bureau of Sporting and Hunting Guns, TSKIB SOO Tula (Центральное конструкторское исследовательское бюро спортивно-охотничьего оружия ЦКИБ СОО) , designed a modified version of the SVD rifle into a bullpup configuration called the OC-03 (ОЦ-03). This abbreviated version of the Dragunov rifle was found to be difficult to shoot comfortably with such a short barrel. Ultimately it was not accepted for development.
In 1991 the OC-03 was resurrected at the request of the Russian Interior Ministry who asked for the added features of a silencer and flash hider added to the barrel to aid in accuracy and concealment. By 1993 after extensive testing the OTS-03 was created . "OTS" translates in Russian to "Obrazets TsKIB" — product of the TsKIB.
In 1995 certain customers from the Interior Ministry asked for a version of the OTS-03 that was capable of burst fire. This new rifle was called the OTS-03A or SVU-A (Sniper Rifle Short - Automatic). The automatic feature was to be used in emergencies only. The barrel was also shortened by 100mm for even better balance and more maneuverability.The sound suppressor silencer is designed with a muzzle brake that helps control the rifle on full-auto. Another variation of this rifle is the SVU-AS (OTS-O3AS) which has a bipod.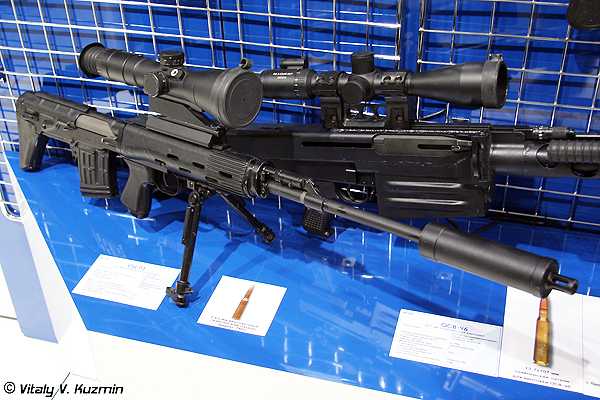 OC-03 sniper rifle. This is a semi-auto only version. The latest OC-03 has a scope rail on top of the hand guards and no iron sights. The bipod mounts to a rail under the hand guards.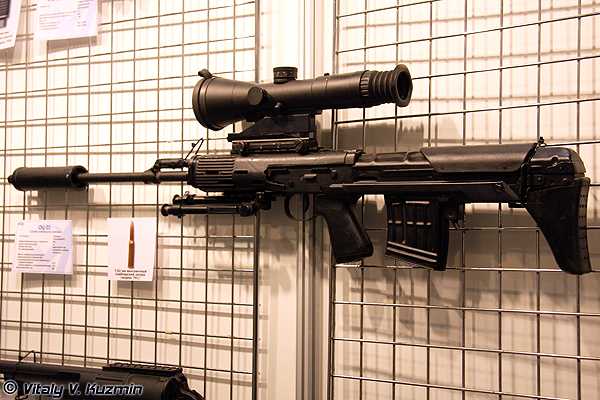 7,62мм снайперская винтовка ОЦ-03 OC 03. Optics are also mounted on top of the hand guards or on the side rail.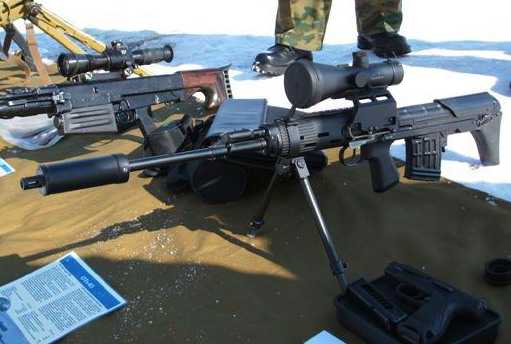 OC-03 sniper rifle with bipod that is clamped on to the hand guards. The barrel is longer than the SVU-A giving accuracy as good as the SVD..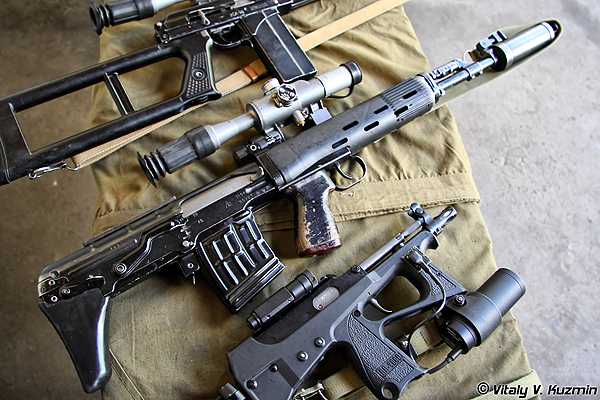 SVU-A full auto sniper rifle. It features a short barrel, folding iron sights, and a side rail to mount the scope. No bipod on this version.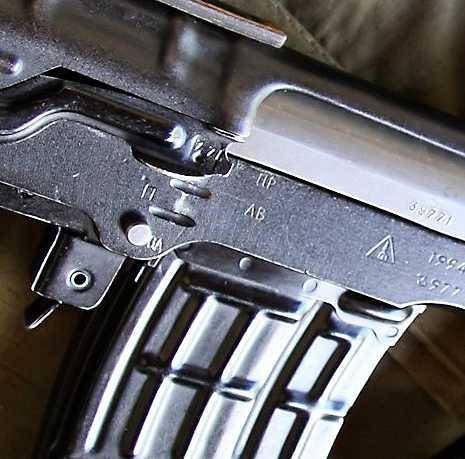 SVU-A selector settings. Safe, Auto, Semi.

SVU rifle with PSO-1 scope. Expected accuracy for this version is 8cm (about 3 inches) at 50 meters with standard ammunition.
The trigger bar connecting rod is visible along this side of the receiver. There is no easy way to connect the forward mounted trigger to the hammer and sear at the rear.

The butt stock has spring tension against the rear of the receiver and will absorb some recoil.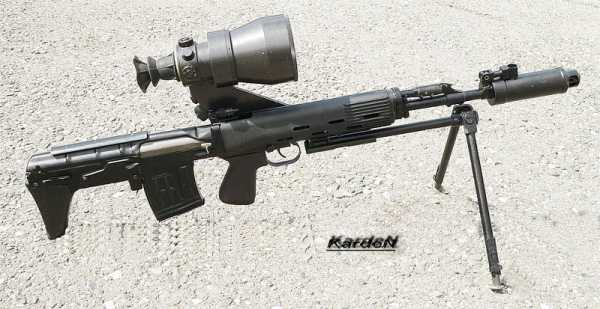 SVU with 1PN93-3 night vision optic. The bipod extends far forward of the receiver giving a steady platform for prone shooting.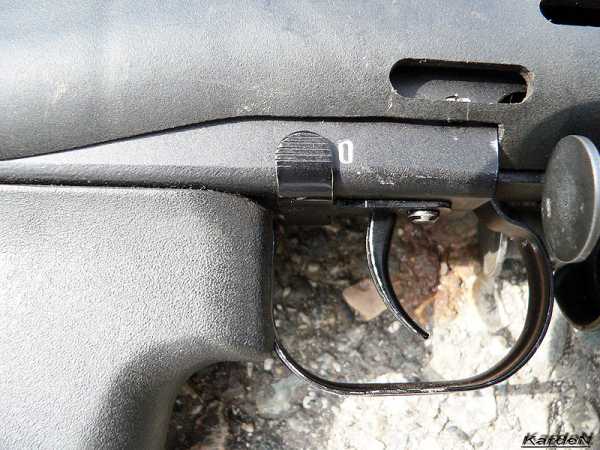 The SVU has a second safety lever outside the trigger housing which can be used with the trigger finger.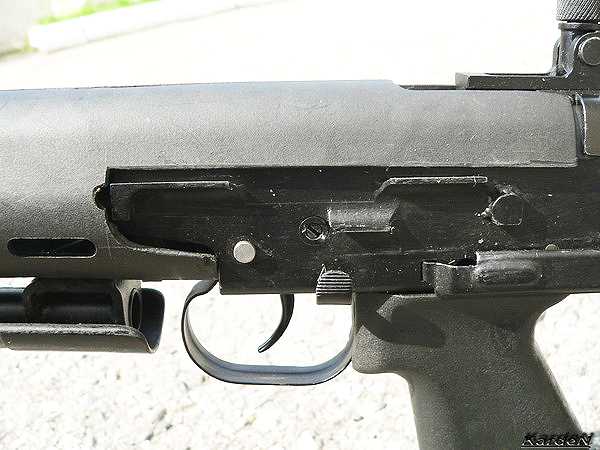 SVU scope mount plate on side of barrel. SVD hand guards are modified to fit around the rail. Photos by "Photoshooter" Karden.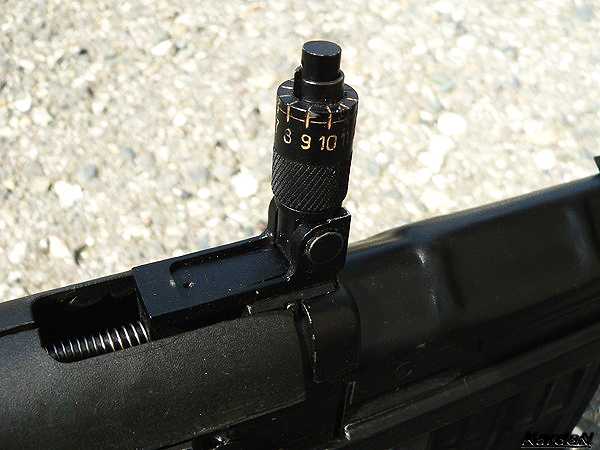 Rear SVU iron sight flips up or down and is adjustable for elevation (range) only.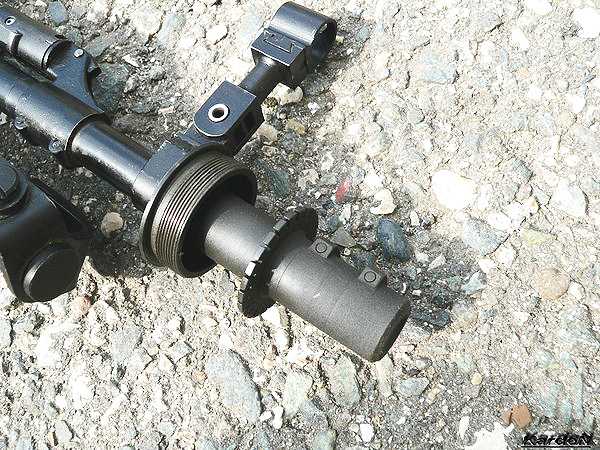 SVU muzzle threads and folding front sight.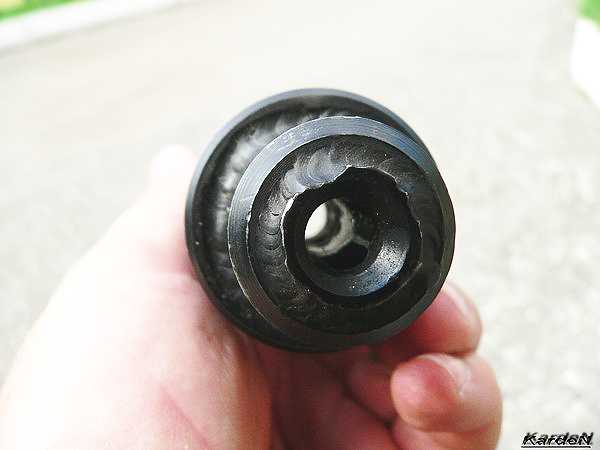 SVU three-chambered silencer opening. This supressor is not intended to completely silence the rifle since the soldier would not be using subsonic ammunition. Its main purpose is to quiet and diffuse the noise enough to make detection by the enemy difficult.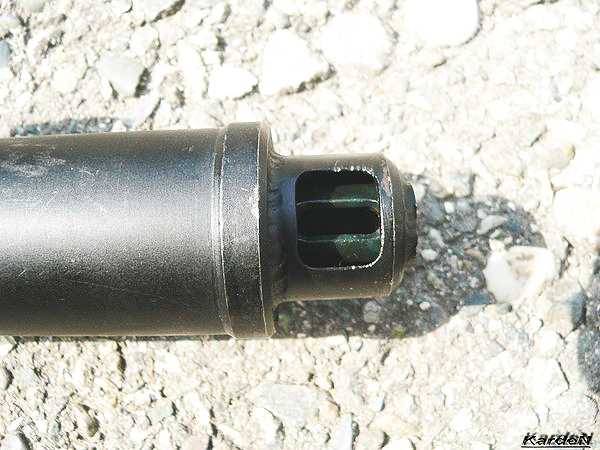 SVU muzzle brake on end of silencer is capable of reducing recoil by about 40%.
On May 6, 2013 Izhmash released details of their updated bullpup Dragunov design called the VS-121.
This rifle appears to have a free floated hand guard with a heavy barrel with threaded muzzle.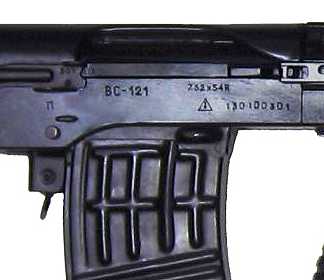 "BC-121" is translates to VS-121.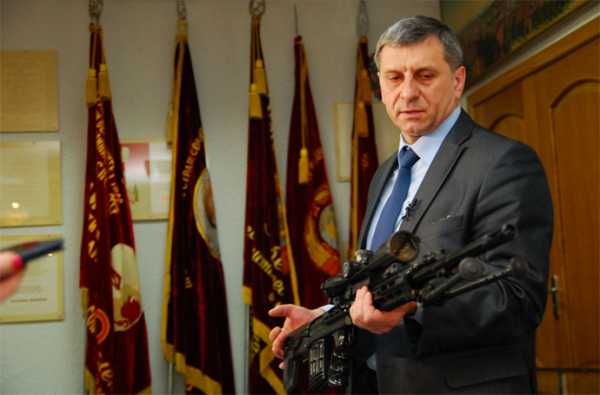 The designer of the VS-121 rifle holding a press conference on the release of this newest bullpup design.
www.dragunov.net